I'm not so good at saying goodbye. Once you wiggle your way into my heart, I want to hold you there for keeps. But these past few weeks I've been faced with a heartbreaking question:
How could I ever say goodbye to the man who saved my life?
Our story begins in June 2011, when my parents and I found ourselves in Baltimore. It had been a tough year for me, with one of the biggest blows being severe and enigmatic hematologic complications that nobody could explain. With this addition to my lengthy list of eccentricities, I had all the earmarks of an underdog. And soon enough I was beginning to think that nobody wanted to deal with an underdog. The major medical center in my area turned me away, saying I didn't have leukemia or lymphoma, so they couldn't help me. So there we were, sitting in the pediatric hematology/oncology clinic at Johns-Hopkins, on what felt like our zillionth-and-second medical trip. We were in for quite a surprise... This visit would be entirely unlike the zillion-and-one before. In walked Dr. Robert Arceci, with a sweet smile on his face and a twinkle in his eye. Soon following the "how do you do's?", Dr. Arceci apologized if he seemed a bit groggy, as he had spent the previous night on a plane from China, heading straight to work upon landing. I never would have guessed, what with the twinkle in his eye and all that. And so the appointment went on, four hours long, revealing important answers I hadn't been so sure were even out there. And, incidentally, my heart positively melted on that fine day when I met Dr. Arceci... He was just that lovable! I soon learned that Dr. Arceci was a team player, never hesitating to pick up the phone to make a few necessary calls in order to bring together a team of experts who could work together in an effort to give his patients the best care possible. He had earned the respect of doctors from all around the world and his list of contacts was vast. Dr. Arceci opened the doors I wasn't able to myself, setting me up with a specialist close to home who could keep an eye on me. But Dr. Arceci assured us that he would gladly direct my care from a distance, and if ever my needs could not be met locally, he would bring me back to Baltimore immediately. As we were heading out the door, Dr. Arceci was genuinely concerned for our safety, inquiring about our lodging and how we planned to get there. You see, by this time the sun was setting, and Dr. Arceci knew too well that you don't want to take a wrong turn in the big city after dark. The week before, he was riding his motorcycle to work, just as he did everyday. But on that particular day, poor Dr. Arceci was mugged! For such a kind and gentle man who was helping so many people to be met with such cruelty was very sad to me... I have always counted it as a real blessing that he found his way safely out of danger's path. I returned home with a diagnosis of
Hemophagocytic Lymphohistiocytosis (HLH),
a finding that would soon save my life; just two weeks later, I landed in a local hospital, very acutely ill. I had the doctors scratching their heads, and without the guidance of dear Dr. Arceci, you wouldn't be hearing from me today. Earlier this month, on June 8th, my heart was shattered when I learned that, while Dr. Arceci was riding his motorcycle to work, he was killed by a hit-and-run driver. Even now my mind cannot process how this could even be possible. He played such an integral role in my care, helping us find direction when we had no idea which way was up. It seemed that Dr. Arceci was never more than a few moments away. He could be across the world, day or night, and yet anytime we emailed him, within minutes we could almost always find a thoughtful response in our inbox, signed "best wishes, Bob". It was such a comfort simply knowing he was here for me... So it just doesn't seem real that he isn't here anymore.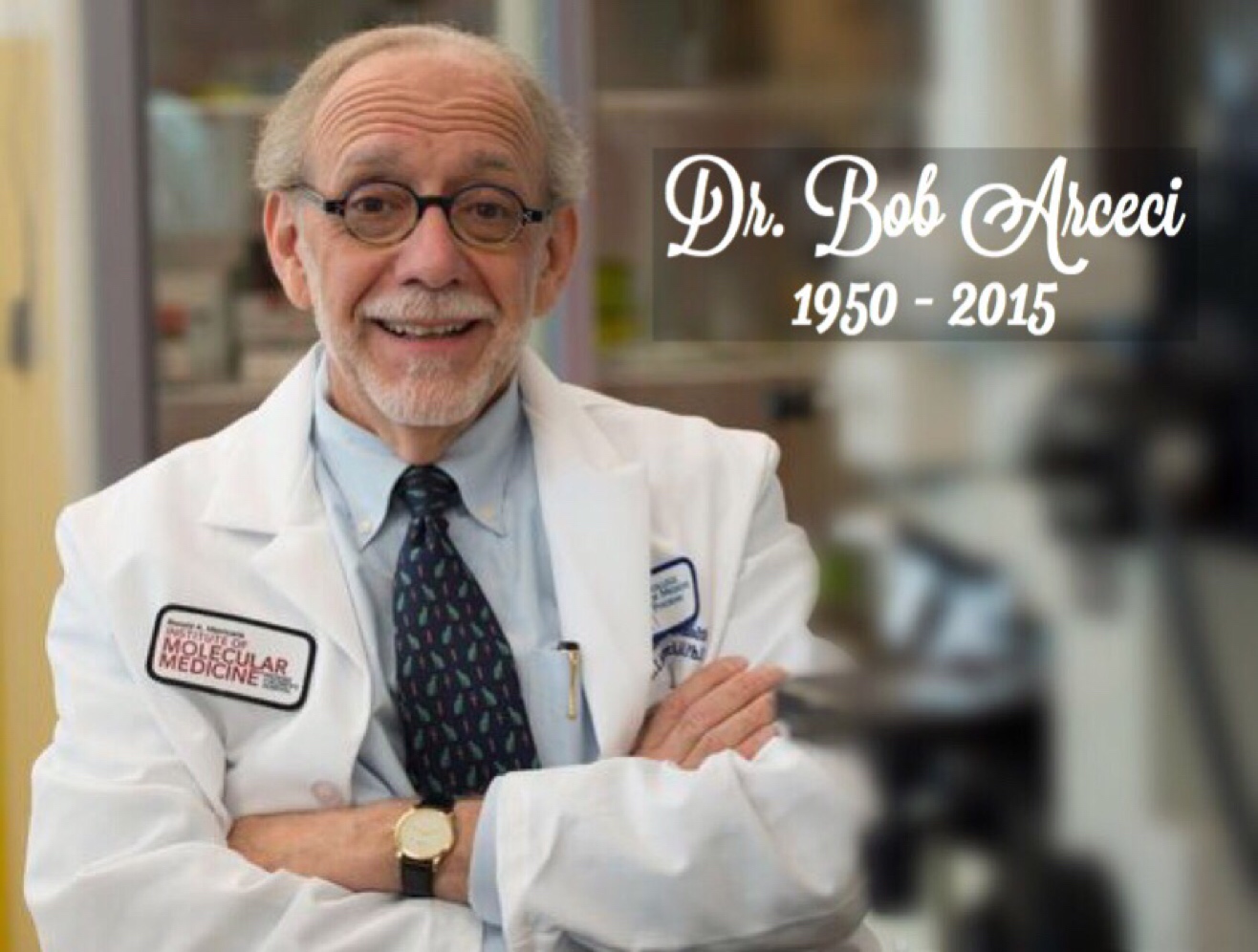 But this is not a story about my heartbreak over a tragic accident that took the life of a remarkable person, an irreplaceable friend. It isn't about how life isn't fair, how bad things happen to good people. Such an outlook simply wouldn't fit in a story of sweet Dr. Arceci. He witnessed the unfairness of life every single day as he encountered the devastating realities of childhood cancer. Dr. Arceci never allowed that to break his spirit, though, instead smiling through the tears and channeling that pain to empower his fight against cancer all the more. And so this is a tribute and a thank you to the inspiring man who has left behind a legacy of hope. Dr. Arceci was so truly passionate about helping sick kiddos in a life-changing, life-saving way. He was respected as an international authority in pediatric oncology, especially in the diagnosis and treatment of leukemia, histiocytic disorders, and high-risk sarcomas. At different times throughout his career, he served as director of pediatric hematology/oncology at Cincinnati Children's Hospital, Johns-Hopkins, and finally Phoenix Children's Hospital. His Emmy Award-winning documentary,
A Lion in the House
, touchingly captured the devastations of childhood cancer. When he transferred to Phoenix in 2012, he helped found the Ronald A. Matricaria Institute of Molecular Medicine where he directed groundbreaking research in realtime genomics, working to optimize and individualize cancer treatment. His
accomplishments
were many, far more than I could fully list. My family and I often wondered if Dr. Arceci ever slept!
Basically, he was one sensational guy.
At age 65, Dr. Arceci was not slowing down in his fight against pediatric cancer; rather, that fight continued to evolve, taking on new forms as he worked to beat diseases that have taken far too much from far too many. When he relocated to Phoenix to direct the genomics project, he told us that it was sure to be quite an adventure that would be full of challenges, but full of potential as well. Dr. Arceci wasn't afraid to undertake such adventures, though, because his career was not about fame or fortune for himself... It was about saving lives. He took in those underdogs whom he realized other doctors either couldn't or wouldn't accept, making him one of the few who were brave enough to help kids with histiocytosis and very rare forms of cancer. Did you know that in the past couple of decades, there have been dismally few advancements in treatment protocols for most pediatric cancers? Dr. Arceci wanted to change that, knowing that a new approach must be taken if progress was to be made. He was continually searching for a cure... And ultimately
he viewed molecular medicine as a "game changer"
in optimizing diagnostics, treatment, and prognoses. Realtime genomics is particularly promising for children and young adults; it is believed that because these patients become sick at such a young age, the cause likely has a genetic factor. Dr. Arceci's goal was that with answers found by unlocking genetic code, someday doctors may be able to detect these devastating diseases earlier -- Or even to prevent them altogether. Dr. Arceci's enthusiasm was incredibly uplifting. He had such hope for the future, such hope for a cure. I know that Dr. Arceci's legacy will live on in those who saw that hope in him. His search for that cure will continue in the work of so many people he inspired.
When I think of Dr. Arceci, the word "love" is the first that comes to mind. To know him is to love him, because he so clearly loved with his entire heart. And God loves love. The Lord blesses each of us with gifts -- And we can use those gifts in such a way that allows us to be a blessing to others in turn. God blessed Dr. Arceci with a brilliant mind, a humble spirit, and a big heart, overflowing with compassion and love. With these gifts that God granted him, Dr. Arceci blessed countless people. He was the closest I've ever known to a guardian angel on earth.

"Each of you has been blessed with one of God's many wonderful gifts to be used in the service of others. So use your gift well." - 1 Peter 4:10

So... How could I ever say goodbye to my hero, Dr. Arceci, the special man who blessed so many? Graciously the Lord has given us a beautiful solution to what seems like an unanswerable question: Jesus gave us the best gift of all when He sacrificed His life so that, so long as we accept the salvation He has offered, we can share eternal life with Him.

And so, Dr. Arceci, we never need to say goodbye. It's just love you, thank you, and see ya later... Next time, in heaven.

"For God so loved the world that He gave His one and only Son, that whoever believes in Him shall not perish but have eternal life." - John 3:16